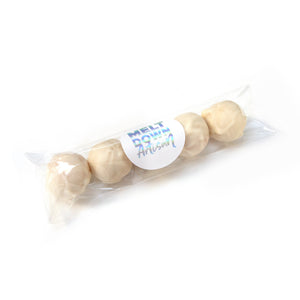 Bonbon One
Bonbon Two
Bonbon Three
Bonbon Four
A pack of five white chocolate truffles filled with a tart apricot gel, with creamy orange blossom, vanilla and cardamom ganache.
Ingredients: Sugar, Cocoa Butter, Whole Milk Powder, Unrefined Dark Muscovado Sugar, Brown Sugar, Sunflower Lecithin, Natural Vanilla, Apricot Puree, Glucose, Pectin, Citric Acid, Cream, Orange Blossom, Vanilla, Cardamom, Sorbitol.
Contains dairy. May contain traces of gluten, nuts and soy. Store in a cool and dry place (~18-22ºC).