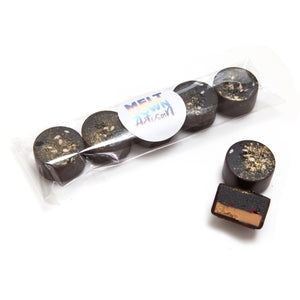 Bonbon One
Bonbon Two
Bonbon Three
Bonbon Four
A double layer of sesame praline—one white, one black with a layer of freeze dried raspberries in-between. If you're the kind of person who enjoys eating tahini out of the jar with a spoon, this is THE sesame experience for you!

Ingredients: Cocoa Mass, Whole Milk Powder, Sugar, Cocoa Butter, Sunflower Lecithin, Natural Vanilla, Sesame, Freeze Dried Raspberry, Edible Gold Lustre Powder.
Contains sesame and dairy. May contain traces of nuts, gluten and soy. Store in an airtight, cool and dry place (~18-22ºC).