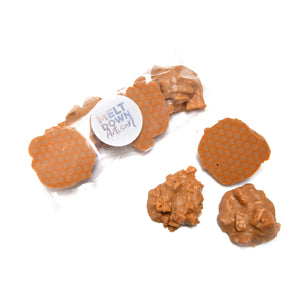 Bonbon One
Bonbon Two
Bonbon Three
Bonbon Four
Dulcey crunchy honeycomb clusters made with 'Yellow Bloodwood' Mount Henry Honey.
Ingredients: Sugar, Cocoa Butter, Skimmed Milk Powder, Anhydrous Milk Fat, Sunflower Lecithin, Natural Vanilla, Honey, Glucose, Bicarb Soda.
Contains dairy. May contain traces of soy, nuts and gluten. Store in an airtight, cool and dry place (~18-22ºC). 
Choosing Just Got Harder
I've been a huge fan of the milk chocolate honeycomb clusters for a while. Now this amazing variation comes along and I'm torn. Guess I'll have to buy both!!!