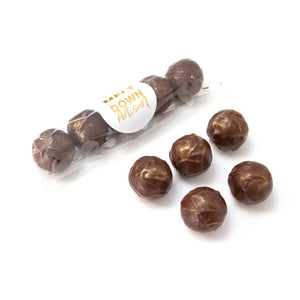 Bonbon One
Bonbon Two
Bonbon Three
Bonbon Four
All of the beautiful complexity of this Japanese Hibiki Harmony whisky sings through a smooth milk chocolate caramel, encased in a thin perfectly tempered dark chocolate shell. If you're expecting a burn, it's not there…it's just smooth, smoooooth, sultry flavour. 😉
Ingredients: Cocoa Butter, Cocoa Beans, Whole Milk Powder, Sugar, Sunflower Lecithin, Natural Vanilla Extract, Caramel (Passionfruit Puree, Cream, Whisky, Sugar, Glucose, Sorbitol), Edible Gold Lustre Powder.
Contains alcohol and dairy. May contain traces of soy, nuts and gluten. Store in a cool and dry place (~18-22ºC)
Dreamtime
Stunningly delicious and heavenly.