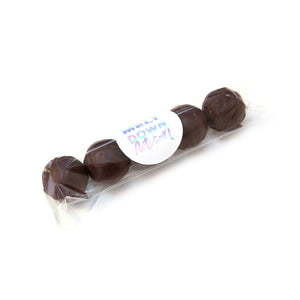 Bonbon One
Bonbon Two
Bonbon Three
Bonbon Four
A pack of five dark chocolate truffles filled with Mr Black coffee liqueur caramel.
Ingredients: Sugar, Cocoa Beans, Cocoa Butter, Coffee Beans, Whole Milk Powder, Sunflower Lecithin, Natural Vanilla, Cream, Mr Black Coffee Liqueur, Glucose, Sorbitol.
Contains dairy and alcohol. May contain traces of gluten, nuts and soy. Store in a cool and dry place (~18-22ºC). 
YUMMY!
If you love coffee and caramel then these are the best!!!!
A Must for Any Lover of Coffee
I purchased 4 packets, on the basis of how delicious the Mr Black Easter Egg was. Delicious, decadent and perfect with my espresso. Definitely will buy again as they didn't last long at all.
Deliciously decadent truffles
Beautifully rich flavour, well balanced. Only sad they didn't last longer!