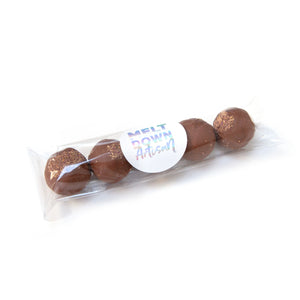 Bonbon One
Bonbon Two
Bonbon Three
Bonbon Four
A pack of five milk chocolate truffles filled with a creamy rosewater ganache, topped with organic crushed dried rose petals.
Ingredients: Sugar, Cocoa Butter, Cocoa Beans, Whole Milk Powder, Sunflower Lecithin, Natural Vanilla, Cream, Glucose, Rosewater, Sorbitol, Organic Rose Petals.
Contains dairy. May contain traces of gluten, nuts and soy. Store in a cool and dry place (~18-22ºC).