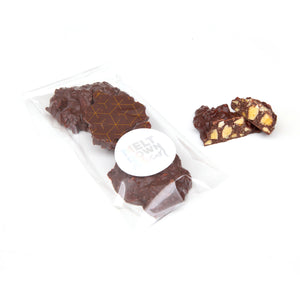 Bonbon One
Bonbon Two
Bonbon Three
Bonbon Four
Dark crunchy honeycomb clusters made with 'Yellow Bloodwood' Mount Henry Honey.
Ingredients:  Cocoa Mass, Sugar, Cocoa Butter, Sunflower Lecithin, Natural Vanilla, Honey, Glucose, Bicarb Soda.
May contain traces of soy, dairy, nuts and gluten. Store in an airtight, cool and dry place (~18-22ºC). 
Beautiful honey flavour
Such a lovely treat. These showed me what real honeycomb truly is and it's amazing. The commercial varieties we all know are terrible imitations. Buy these and taste the difference!!
Scrumptious!
It would be in your best interests to buy more than one bag of this! It's a honey sweet, crunchy, chocolaty, dance party in the mouth!
Honeycomb
We just loved them so much I was lucky to be able to order some more. This one has to be a keeper in your stock!
Something yummy and different!
Thanks, given as a gift and got great review from it!