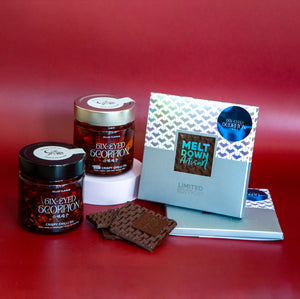 Bonbon One
Bonbon Two
Bonbon Three
Bonbon Four
Our fearless collaboration with Six-Eyed Scorpion has led to this devilishly delicious limited edition dark chocolate, laced with Extra Spicy Crispy Chilli Oil! It's a daringly delightful sweet/savoury snack. Blending cinnamon, star anise & fennel, Chef Sandra has conjured an amazing depth of flavour & a sizzling kick which complements dark chocolate perfectly.

Opt to add on a jar of Original Crispy Chilli Oil or Extra Spicy Chilli Oil if you dare!
Ingredients: Sugar, Cocoa Butter, Cocoa Beans, Sunflower Lecithin, Six-Eyed Scorpion Chilli Oil (Canola Oil, Shallots, Garlic, Chilli Flakes, Bird's Eye Chillies, Gluten-Free Soy Sauce, Sugar, Korean Chilli Flakes, Fennel, Dried Shiitake, Black Peppercorns, Cinnamon, Star Anise, Bay Leaf.
Contains soy. May contain traces of dairy, gluten and nuts. Store in a cool and dry place (~18-22ºC). 
Chilli Chocolate First-Timer
I've always been curious about the appeal of chilli and chocolate together and when I found that Jen had created a block, I knew I had to give it a try. This didn't burn your tongue with spice which allowed you to experience all of the flavours present in both the chilli oil and in the chocolate too.
Delicious flavour combo!
The perfect blend of smooth and spicy, I'm so glad I jumped on this limited edition!
Deliciously decadent!
The combination of this fiery chilli and sublime chocolate is extraordinary! Cudos to these two amazing artisans 🙌🙌