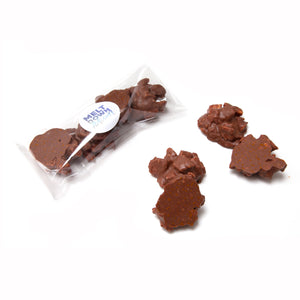 Bonbon One
Bonbon Two
Bonbon Three
Bonbon Four
Milk crunchy honeycomb clusters made with 'Yellow Bloodwood' Mount Henry Honey.
Ingredients:  Sugar, Cocoa Butter, Whole Milk Powder, Cocoa Mass, Sunflower Lecithin, Natural Vanilla, Honey, Glucose, Bicarb Soda.
Contains dairy. May contain traces of soy, nuts and gluten. Store in an airtight, cool and dry place (~18-22ºC). 
So delicious they are dangerous.
The very best honeycomb chocolate combo I have every tasted in my (long) life
Amazing
These are such delicious morsels, the perfect ratio of smooth chocolate with crisp honeycomb. Absolutely delicious. Will be coming back for more and more.