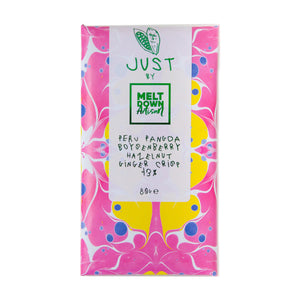 Bonbon One
Bonbon Two
Bonbon Three
Bonbon Four
Embark on an adventure of white-chocolate discovery with Peru 'Pangoa'! We've substituted hazelnut for milk powder, added freeze-dried boysenberry, vegan croissant, and buderim ginger for texture and balance.
Vegan friendly.
Each bar weighs ~80g.
Ingredients: Cocoa Butter, Sugar, Hazelnut, Vegan Croissant [Flour, Sugar, Vegan Block (Shea Butter Oil, Water, Coconut Oil, Rapeseed Oil, Salt, Almond, Sunflower Lecithin, Carrot Juice, Lemon Juice, Natural Sunflower Oil Flavour), Yeast], Boysenberry Powder, Buderim Ginger.
Contains nuts and gluten. May contain traces of dairy and soy. Store in a cool and dry place (~18-22ºC).