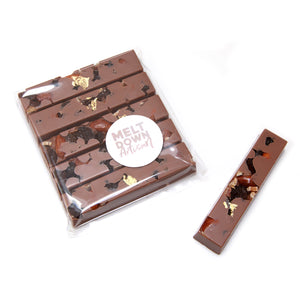 Bonbon One
Bonbon Two
Bonbon Three
Bonbon Four
Our version of fruit and nut, made with milk chocolate infused with Karu Distillery rum, Australian sunmuscat sultanas, caramelised almonds, candied iyokan peel and a touch of edible gold leaf.
Ingredients: Cocoa Butter, Cocoa Beans, Whole Milk Powder, Sugar, Sunflower Lecithin, Natural Vanilla Extract, Almonds, Sunmuscat Sultanas, Candied Iyokan Peel, Rum, Edible Gold Leaf.
Contains dairy and nuts. May contain traces of alcohol, soy and gluten. Store in a cool and dry place (~18-22ºC). 
Christmas flavours
Haven't tried this yet saving for Christmas stockings