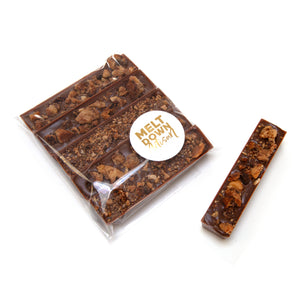 Bonbon One
Bonbon Two
Bonbon Three
Bonbon Four
This bar was born from a late-night craving gone awry; the oven was set too high and the cookies were over baked... yet it was the perfect excuse to turn them into something special! These milk chocolate snack bars come loaded with salted caramel, a layer of banana houjicha and hazelnut praline - and topped off with late-night cookies made with a blend of chocolate, hazelnuts, walnut and vanilla.
Ingredients: Sugar, Cocoa Butter, Whole Milk Powder, Cocoa Mass, Sunflower Lecithin, Soya Lecithin, Natural Vanilla, Caramel (Sugar, Glucose, Cream, Sorbitol, Salt), Cookie (Butter, Brown Sugar, Sugar, Egg, Vanilla, Flour, Milk Powder, Salt, Bicarbonate Soda, Baking Powder, Chocolate, Walnuts, Hazelnut, Coffee Beans), Croissants (Flour, Sugar, Malt, Salt, Milk, Water, Yeast, Butter), Houjicha Powder, Freeze Dried Banana.
Contains gluten, dairy, nuts and soy. Store in an airtight, cool and dry place (~18-22ºC).