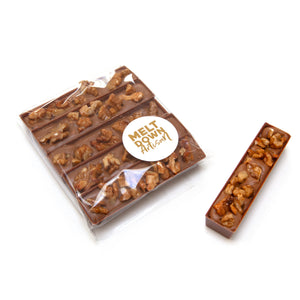 Bonbon One
Bonbon Two
Bonbon Three
Bonbon Four
Indulge in the decadent crunch of a sumptuous milk chocolate snack bar, loaded with salted caramel and sesame seed praline, crowned with caramelised toasted walnuts.
Ingredients: Sugar, Cocoa Butter, Whole Milk Powder, Cocoa Mass, Sunflower Lecithin, Soya Lecithin, Natural Vanilla, Caramel (Sugar, Glucose, Cream, Sorbitol, Salt), Sesame Seeds, Toasted Walnuts.
Contains dairy, nuts and soy. May contain traces of gluten. Store in an airtight, cool and dry place (~18-22ºC).