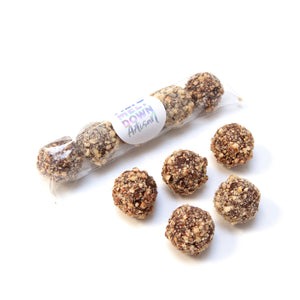 Bonbon One
Bonbon Two
Bonbon Three
Bonbon Four
A punchy yuzu caramel paired with a velvety smooth hazelnut praline, enhanced with just a hint of cinnamon. We've bundled it all up into a thin chocolate shell, rolled in chopped toasted hazelnuts.
Ingredients: Cocoa Butter, Cocoa Beans, Whole Milk Powder, Sugar, Sunflower Lecithin, Natural Vanilla Extract, Caramel (Yuzu Puree, Cream, Sugar, Glucose, Sorbitol), Hazelnuts, Cinnamon.
Contains nuts and dairy. May contain traces of soy and gluten. Store in a cool and dry place (~18-22ºC)
Always a winner
No matter the combo, when buying from meltdown you can be assured that it is unique with divine textures and flavours. As always, I wish I had purchased more!
These are so good!
The yuzu flavours hit you before you even finish biting down. You get the smell and taste sensations at once. These are so good. Might be my new favourite…