💖 TREAT YOURSELF! 🙋🏻
At Meltdown Artisan, we believe you deserve to spoil yourself and the ones you love with a little guilt-free indulgence sometimes! Our chocolate is 100% traceable back to the farmer, supporting cocoa growers and being good to the environment by ensuring fair wages and sustainable farming practices. Can it possibly get any more delicious than that?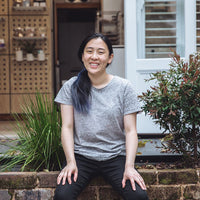 About Meltdown Artisan
Meltdown Artisan is run by owner and sole-operator Jen Lo. Each and every part of the business from emails, conceptual development, production and pack and send is managed by just two hands.
With a background in Visual Communications, in 2015, Jen left the world of design after working for several years in industry. She delved headfirst into her love of food—one home-based business, two retail shopfronts and a global pandemic later, she is now operating Meltdown as an e-commerce business out of a studio kitchen in the beautiful Blue Mountains of Australia. Pick-up is also available on Fridays and Saturdays from Meltdown's flagship kiosk located in the local book shop, RoseyRavelston Books, in Lawson.
The chocolate supply chain is one rife with problems—not just of sustainability, but also very real human issues, with many people being exploited and abused along the way. It's the mission of Meltdown to talk about these issues and to encourage mindful consumption, knowing where what you're eating is coming from and how it has been sourced.
In late-2022, Jen launched 'Just' by Meltdown Artisan—a bean to bar arm of the business, sourcing transparently traded cocoa beans cocoa beans from several different cocoa growing regions across the globe.
A less is more approach, with quality being at the heart of everything.
Photo credit: Maja Baska Photography