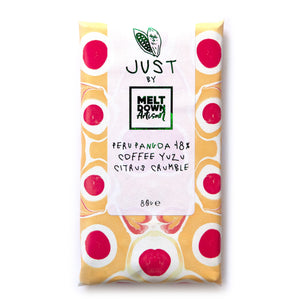 Bonbon One
Bonbon Two
Bonbon Three
Bonbon Four
Our Peru 'Pangoa' Coffee, Yuzu and Citrus Crumble is out of this world! A rich alt-white chocolate base made with un-deodorised cocoa butter from Pangoa, plus creamy macadamias and Kenyan washed coffee from Grace & Taylor. Add in some freeze-dried yuzu and gluten-free lime and lemon zest brown sugar crumble and you're in for a one-of-a-kind adventure. 
Please note that while this is an alt-white chocolate, the crumble contains butter, so it's not a vegan-friendly product and does contain dairy.
Each bar weighs ~80g.
Ingredients: Organic Peruvian Cocoa Butter, Organic Raw Sugar, Macadamias, Almond, Butter, Brown Sugar, Coffee (Kenya Rung'eto AA Washed), Brown Rice Flour, Freeze Dried Yuzu, Bergamot Zest, Lemon Zest, Salt.
Contains dairy and nuts. May contain traces of gluten and soy. Store in a cool and dry place (~18-22ºC).