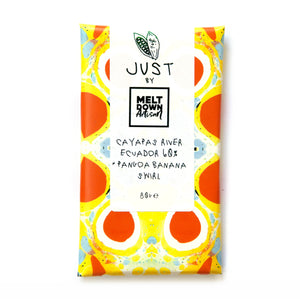 Bonbon One
Bonbon Two
Bonbon Three
Bonbon Four
This combination of flavours is a nod to a favourite summer beverage—a smoothie made with vanilla ice cream, cocoa powder, and super ripe bananas. Our block combines two types of chocolate: Ecuador 'Cayapas River' 60% dark milk chocolate and Peruvian Pangoa 41% white chocolate made with natural organic cocoa butter. So a-peeling!
Each bar weighs ~80g
Ingredients: Organic Cocoa Butter, Whole Milk Powder, Organic Raw Sugar, Cocoa Beans, Freeze Dried Banana.
Contains dairy. May contain trains of nuts, soy and gluten. Store in a cool and dry place (~18-22ºC).