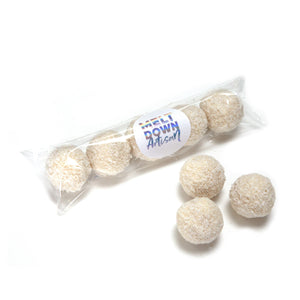 Bonbon One
Bonbon Two
Bonbon Three
Bonbon Four
Tantalise your taste buds with these fluffy white 'snowballs' hand filled and rolled with a classic and daring Aussie Summer flavor--mango and passionfruit! Taste an explosion of flavor with every bite!
Ingredients: Sugar, Cocoa Butter, Whole Milk Powder, Sunflower Lecithin, Natural Vanilla, Caramel (Mango Puree, Passionfruit Puree, Cream, Glucose, Sorbitol), Organic Desiccated Coconut.
Contains dairy. May contain traces of nuts, soy and gluten. Store in a cool and dry place (~18-22ºC).