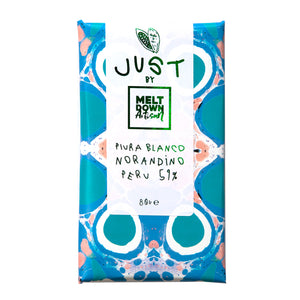 Bonbon One
Bonbon Two
Bonbon Three
Bonbon Four
This 59% Piura Blanco Dark Milk bar was created with cocoa beans from the Norandino cooperative in Peru, founded in 2005. It aims to aid smallholder families in developing sustainable, diversified cocoa-agroforestry systems. This strain of cacao has been meticulously selected and replanted over the past decades, pushing this special strain of cacao away from near-extinction. It belongs to the 'Nacional' cacao genetic group, one of the oldest on Earth, cultivated and consumed near the Peruvian-Ecuadorian border for over 5 millennia.
We don't like to dictate or prescribe what you'll taste when you eat this chocolate, but for us, we taste a hint of cranberry followed by a rich nuttiness.
Each bar weighs ~80g.
Ingredients: Cocoa Bean, Whole Milk Powder, Organic Raw Sugar, Organic Cocoa Butter.
Contains dairy. May contain traces of soy, gluten and nuts. Store in a cool and dry place (~18-22ºC).