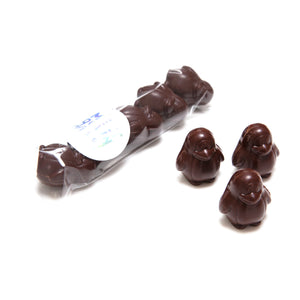 Bonbon One
Bonbon Two
Bonbon Three
Bonbon Four
Round up the Pistachio Penguins! Pop one of these cuties in your mouth and explore the mix of creamy Australian pistachio praline and a kiss of tart freeze-dried cherries.
Ingredients: Sugar, Cocoa Butter, Whole Milk Powder, Cocoa Beans, Sunflower Lecithin, Natural Vanilla, Australian Pistachios, Freeze Dried Cherry.
Contains dairy and nuts. May contain traces of soy and gluten. Store in a cool and dry place (~18-22ºC). 
Cute penguins for Christmas
Great pistachio flavour. You do nut flavours so well. Cherry was subtle. Lovely idea and shape for Christmas