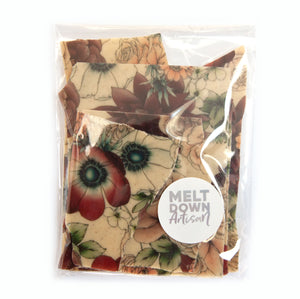 Bonbon One
Bonbon Two
Bonbon Three
Bonbon Four
Our Winter edition Typoflora bark—120g of white chocolate bark mixed with speculaas spices.
Ingredients: Sugar, Cocoa Butter (33%), Whole Milk Powder, Sunflower Lecithin, Natural Vanilla, Spices, Transfer Sheet (Modified Starches, Stabilisers, Emulsifier, Humectant, Titanium dioxide <0.3%). 
Contains dairy. May contain traces of gluten, soy and nuts. Store in a cool and dry place (~18-22ºC). 
The Mrs fav
This was a massive hit on Valentines Day amongst the other MDA Choc deliciousness
Just the right amount of spice to sweetness to keep you coming back for more. Evil but in the best way 🤤
Spiced cookie bark
I loved this. The taste is wonderful, and it's also just gorgeous to look at. I'm off to order some more.