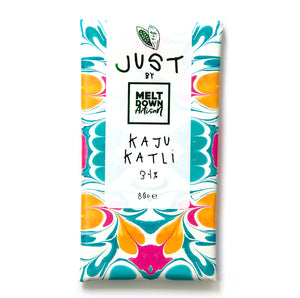 Bonbon One
Bonbon Two
Bonbon Three
Bonbon Four
This carefully crafted cashew couverture is made from un-deodorised cocoa butter sourced from Pangoa, Peru and delicately toasted organic cashews. It is balanced with organic raw sugar and enriched with rose powder, saffron, and cardamom for a true Kaju Katli flavor.

Each bar weighs ~80g.
Ingredients: Cocoa Butter, Organic Cashews, Organic Raw Sugar, Organic Rose Powder, Cardamom, Organic Saffron, Edible Silver.
Contains nuts. May contain traces of dairy, soy and gluten. Store in a cool and dry place (~18-22ºC).