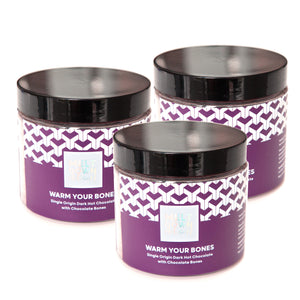 Bonbon One
Bonbon Two
Bonbon Three
Bonbon Four
A triple threat of Madagascan dark chocolate Warm Your Bones Hot Chocolate Mix, for those of you who, like us, are addicted to proper hot chocolate!
Dark Chocolate Honeycomb Clusters Ingredients:
  Cocoa Mass, Sugar, Cocoa Butter, Sunflower Lecithin, Natural Vanilla, Honey, Glucose, Bicarb Soda.
May contain traces of dairy, soy, nuts and gluten. Store in a cool and dry place (~18-22ºC).